Reviews for Haunted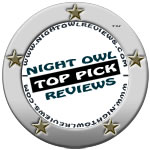 Jeanne C. Stein is at the top of the Urban Fantasy Game! I mean where else can you get drug cartels, human trafficking, gun running, vampires, shapeshifters and a vampire bounty hunter who can either kick your ass or kill you? I have followed this series from the first, and Ms. Stein just keeps getting better and better. Haunted is filled with action, and finally we get to find out about Culebra and his story. Max comes along for the ride. I'm loving the chemistry between the two. I was very sad about the end but I know sometimes the story has to evolve. I really enjoyed Anna being her more kick ass self. She also has some choices in her life to make, like should she keep her human boyfriend or move on? I could not put Haunted down. Before I knew it I was finished! It was that good! I am loving this series!! This series is best read in order so that you understand Anna Strong's growth throughout the series.
Anna Strong is a vampire and a bounty hunter. Being one of the best ones around she knows how to kick ass and take some names. One night she walks into Culebra bar. Not only does she run into her ex Max there, but one of Culebra's old friends show up. Soon Anna, Culebra her ex-boyfriend, DEA agent Max, and Ramon are heading to Mexico to deal with the drug cartel and Culebra's old boss. And when they stumble upon the slave trade of young girls, Anna has had enough. She decided to let her inner vampire come out and play. Some heads are going to roll!



Book Blurb for Haunted


Anna Strong—kick-ass bounty hunter and vampire—has made some enemies in her time. But it's not just her old foes she should be worried about…
Anna's shape-shifting friend Culebra finally opens up to her about his life before he owned Beso de la Muerte, a bar catering to supernatural clientele. As if summoned by the conversation, Culebra's past stumbles into his bar in the form of an old buddy cashing in a favor.
Soon Anna, Culebra and her ex, DEA agent Max, find themselves deep in Mexico, dealing with drug cartel infighting, old vendettas and missing girls. Mexico just may prove to be Anna's best match yet…

---
Night Owl Reviews Sep, 2012 5.00

Haunted (Anna Strong Chronicles #8) by Jeanne C. Stein
Review: Haunted by Jeanne C. Stein
http://smexybooks.com/2012/10/review-haunted-by-jeanne-c-stein.html

October 3, 2012
Urban Fantasy
August 28, 2012
Ace
Favorite Quote: "What am I?" I whisper then. "Vengeance."
Haunted, #8 in the Anna Strong Chronicles, brings back the dynamic action packed life of Anna Strong-bounty hunter turned vampire, that I missed in book 7. Anna was turned into a vampire through violent means and without her consent. While it has been a wild adventure for Anna, she has accepted her role in being the Chosen. She is content in her relationship with Stephan, a human reporter, but she can't help the loneliness that is beginning to claw at her. Being the Chosen and immortal, she is finding herself wanting something more; with someone who can truly understand her dual nature and the problems that comes with it. When her friend Culebra, a mysterious shape shifter, reveals his past to Anna, she is both shocked and repelled. Culebra is not who she thought. When his past comes to him for help, Anna and her ex boyfriend, DEA agent Max, will have to shove aside their animosity, travel with Culebra into Mexico and infiltrate the drug cartel to help him right an old wrong. But things are not as they seem and Anna soon learns that some things from the past will never let you go.
Anna is what every Urban Fantasy heroine should be. A tough, gutsy, complex character who delivers what's promised. She has a strong presence but doesn't overwhelm. Stein's conversational writing style is even flowing and fleshes out even the most minute details to provide a rich story telling experience. She has accepted her destiny as the Chosen and lives more in harmony with her vampiric side, but we see a stronger human urge for love, family, and security in here. Once I started reading, I was engrossed in Anna's story. The world Stein has created is a perfect blending of supernatural wonder and magic with modern times. I like that Anna continues to learn from her earlier mistakes which allows for growth not only in her character but in this series. She still jumps the gun, but she isn't as self destructive anymore.
The majority of this story revolves around Culebra. We learn some things about him that contradicts what we have believed so far. Action, violence, and subterfuge are the main components and they are used to highlight and draw out both Culebra's and Anna's nurturing sides. We see Frey and his son, giving us hope that they will become more and more a permanent feature in future storylines. I liked the fact that even with multiple subplots, the main story line stays focused and reads fast and furious. Betrayal is a recurring factor that presents itself on many different levels. While some of the plot and it's main characters actions were predictable, it didn't take away from the over all enjoyment.
Many readers will be pleased to see that Haunted resolves some long standing storylines and opens new doors for Anna. One in particular that I have been waiting for a long time. What appeals to me in this series is it's plot driven storyline. Fast paced action and strong characters play a huge part while romance is subdued and used to accent the story rather than compete against it. This series is continuing arc so I do not recommend it as a stand alone. Even though the main conflict is resolved at the end of each installment, past scenes and relationships are often referenced and that will not make sense if you are not familiar with the players. I enjoyed this newest adventure into Anna's life and was pleased by the direction Ms. Stein is taking with the series.
Overall rating: B
Literal Addiction review:
Our Review [by Michelle L. Olson – LITERAL ADDICTION's Pack Alpha]:



I was lucky enough to receive a copy of Haunted from the Publisher for review. I settled in with the tale on a trip out of town and almost missed several set meet up times because I couldn't put it down!

Haunted is basically an action movie set to paper with a leading lady to rival Jennifer Garner, Angelina Jolie, or any of the other action heroines out there that we so love.

Our favorite gun-toting, 'what you see is what you get' PI/Vampire is thrown into a devastatingly dangerous situation with her friend and shapeshifter Culebra and ex and DEA agent Max. What starts out as a favor for a friend, turns into a huge ordeal full of Mexican drug cartels, child sex/slavery rings, and more. It's one hurdle after another for Anna and her gang, and NOTHING is as it seems!

During the ordeal, Anna & Culebra gain a few unexpected allies and new friends, Max proves that he's not quite the jerk that we thought he was, Anna makes sacrifices yet again to save her friends and the innocent, and in the end... the good guys win... um... sort of.

This book was intense and the end had my heart rate elevated immensely and a look of utter shock on my face. I can't tell you more without ruining it, but it was OH SO GOOD!!

Haunted was action packed, emotion filled, & utterly fantastic!! While I suggest reading the entire series, Haunted can definitely be read as a stand alone novel.

LITERAL ADDICTION gives Haunted 5 Skulls and would recommend it to everyone! Urban Fantasy lovers need to check into the Anna Strong Chronicles, it's a journey you won't regret!

The Urban Paranormal Book Blog
Anna Strong Chronicles, Book 8
Posted by Deva at 11:12 AM


I can't believe this is book 8. I feel like I just started reading the series last year. I think I DID start reading the series last year but that's besides the point.

***MILD SPOILERS AHEAD***

Anna, Max and Culebra are tasked with taking on a boss in a Mexican drug cartel. This time around, we get loads of information on Culebra, say hello to some new family for someone and say goodbye to a person I'd silently complained about since book 1. And just in true fashion, when you start to think this person isn't so annoying, they're gone. Bummer too, I had a little hope for something good to come of the cartel experience.

Ramon, a close friend of Culebra, shows up not far from Beso De La Muerte, warning him of a coming danger. Culebra sends Anna away and she becomes worried. Calling in help from Max, they follow Culebra and Ramon, then begin a journey into Mexican drug territory where stories and alliances are flipped 5 ways from Tuesday.

I don't know what to say about this mess ... Not mess ... The book was great. Damn good. I couldn't put it down until I finished it. In the beginning, Anna is being high and mighty and I'm ready to beat her to death, then she turns into the bad ass Anna that I like so much and all is forgiven. Despite all the good things that happened, all I can think about is the one who left us. Lord knows I didn't want this. Well ... Had this happened a book or 2 sooner, then fine, but not this one. I think because things were finally at a good point did it become harder to say goodbye.

Stephen ... This bitch. I hate it. I hate his sister. I hate Stephen for not allowing Anna to get a word in edgewise. I hate his sister because she's a bitch.

I loved the ending. It warmed my heart a little to know that Anna had something positive waiting for her.
Posted by Kt Clapsadl on Thursday, August 23, 2012 at 7:00 AM
Haunted by Jeanne C. Stein
Anna Strong Chronicles #8
http://www.abookobsession.com/2012/08/haunted-early-review.html


Since Anna was unwillingly turned into a vampire, there are very few people who know her true nature. Her shape-shifter friend, Culebra is one one of the few trusted ones, so when his dark past is revealed, that shock hits her even harder. Yet when one of his past cohorts comes to call wanting to cash in a life debt Anna instantly steps up, along with Max, the DEA agent and her ex, to support Culebra on his quest. Traveling deep into Mexico, Anna could have never imagined the horrors she would experience, ones that spurn her vampiric need for justice to a righteous fury. Like they say about a woman scorned, adding a vampire to the mix, and her opponents don't stand a chance.

I was utterly shocked at learning Culebra's past misdeeds. Considering how open he is now to everyone in need, by running the bar and the safe house nature it supplies, I just cannot believe he was ever so terrible. Just like Anna, it blew the wind out of my sails a good bit. Of course that shock didn't last very long for either of us as Anna realized that Culebra may very well be in trouble from that dark past. I think it shows a true testament to their strength in their friendship that stubborn Anna was able to get over such a shocker to her morals so fast. It also shows her fierce loyalty to those she calls her own, and I feel that despite his lesser moral past, Culebra is more than worthy of her support now.

Anna's love life is an utter tangled mess in Haunted. She's currently dating a human who accepts all of her, and doesn't shy away from her nature. Even though she is fond of him and he does make her happy, part of her isn't satisfied. Then there is the brief return of Frey and his son, which opens up all sorts of questions for Anna. In fact it shows her the life that she wants, a real family, but thought she could never have since she was turned into a vampire. Speaking of that turning, Anna is also mixed up in a mission with Max, the human who dumped her after finding out her true nature. Despite his terrible demeanor towards him and his nonacceptance, She'll always has a soft spot for him and there is a wistfulness there as she wishes he had been able to understand. So, needless to say, when it came to love, Anna was rather confused in Haunted. I have to admit that I have my preferences out of who I would pick from the three men, and I'm so happy that it looks like by the end, Anna will be heading in that direction. (I was purposely vague on that last statement to keep from spoiling the ending.)

I have to admit that most of the time I don't read the acknowledgements in books, but skip right to the "good stuff." However, this time around I'm very glad that I didn't follow that normal pattern, as Jeanne talked about writing this story because of the real issues below our borders and she wanted to give some sort of resolution, even if it was only a fictitious one. I've just always enjoyed stories that employ a deeper story or connection to the writer, as the emotion always seems to come across all the more strongly for it. All in all, I really enjoyed this latest installment in the Anna Strong series. It really amazes me just how much all of the characters have grown over the series, and I know I will be terribly sad to say goodbye to them in the next installment as it will be the last. Fans of the series won't be disappointed in Haunted as it is an action packed ride featuring an issue that is near and dear to the author's heart, making for an incredible read.

(Received a copy from the publisher)
"Haunted" is a thriller that will chill readers
HAUNTEDAUGUST 23, 2012BY: KAYE LYNNE BOOTH
http://www.examiner.com/review/haunted-is-a-thriller-that-will-chill-readers


Gun toting, bounty hunting Anna Strong is back, along with the vampire within her in Haunted, the latest in the Anna Strong Vampire Chronicles, by Colorado author and Rocky Mountain Fiction Writers "Writer of the Year" nominee, Jeanne C. Stein. Anna and her friends are on the hunt for Mexican Drug cartel lord, Pablo Santiago. Nothing is as it seems, and Anna and her friends must be on their guard, as trusted friends fall under suspicion and the villains turn out to be even viler than they had initially believed. Each is haunted by their past. An old friend calling in a favor influences her friend Culebra, drawing him in, providing motivation to see this manhunt through to the end. Anna is haunted by past relationships from every direction: her current guy is pressuring her to uproot her life; Frey appears as a blast from the past, and offers an invitation that touches her heart; and her ex-boyfriend and DEA agent, Max becomes her partner in this dangerous adventure into enemy territory.

There is no telling how things will end up, but as always you can be sure that vampire, shape shifter and DEA agent will prevail in the get the bad guy scenario, with many unexpected twists and turns along the way. This new speculative action thriller is packed with action that is sure to chill readers to the bone.
There will be a debut party held to celebrate the release of Haunted on August 28, 2012, at the Highland Ranch Tattered Cover, 9315 Dorchester Street in the Highlands Ranch Town Center, beginning at 7:30 p.m. All fans and readers, both old and new, are invited to come and join in the festivities, and meet author Jeanne C. Stein in person.
Harriett Klausner
Genre Go Round Reviews
Aug 8 2012


Anna Strong misses her new boyfriend Stephen the reporter as Skype is good for greetings but not to exchange bodily fluids. Meanwhile her former human lover Drug Enforcement Agency agent Max informs Anna that he is worried about their friend, Culebra the shapeshifter owner of Beso de la Muerte. She has avoided Cuelbra since she learned about his life as a drug cartel assassin before he quit being a murderer after his family was killed. Additionally Anna has kept her distance from Max too after helping him on a recent case (see Crossroads).

However, Culebra's friend Julio needs help as a cartel kidnapped his family. Culebra persuades Max to help him as the target is a drug kingpin and he wants Anna to help as as innocent civilians are involved. However, her instincts to stay out of this mission prove correct when betrayal and death stalk her.

The latest Anna Strong Vampire urban fantasy is a great stunner as revenge and redemption prove dangerous for anyone in the way. Fast-paced from the moment Culebra tells his sordid past to Anna and never slowing down; fans of the series will be stunned by this powerful twisting thriller.


Posted by Harriet Klausner at 2:28 PM



"Past Imperfect" From Fresh fiction
Reviewed by Alexandra Sereni-Brown
Posted January 13, 2013
If you love urban fantasy with a kick-ass heroine, you will not be disappointed with the Anna Strong Vampire series by Jeanne C. Stein. I admire how Stein blends supernatural creatures with issues that are front-page news of today. This realism in an urban fantasy novel brings an element of empathy that allows the reader to empathize with the characters on a deeper level. Stein has a knack for writing characters that pop off the page and you either love or detest them. Anna Strong is a character that I adore! She is strong, assertive, and an all-out action hero, but flip the coin and she is sensitive and endearing as well. She was made into a vampire during the first book in the series, but Anna is constantly facing very human issues. HAUNTED is the perfect name for the eighth book in the series for several reasons. The most important reason is that several of the characters in the book are haunted either by deeds of the past or monstrosities they face in the present.
In HAUNTED, Anna is alone at Christmas and feeling sorry for herself so she heads over to visit her friend Culebra, a shape-shifter that owns a bar for supernatural people on the other side of the US border from San Diego. While visiting her friend, she learns some of Culebra's history with a drug cartel. She scorns Culebra for his behavior while with the drug cartel even though Anna's past is far from spotless. Later on, Anna runs into a man wandering aimlessly in the desert. Anna takes him to the nearest respite to their location, Culebra's home. The man happens to be an old friend of Culebra's from their cartel days and asks him for help. It seems that his family is being targeted by the drug lord who runs the cartel. Culebra feels an obligation to help due to a past debt that he must repay. He asks Anna and her ex-boyfriend Max, who is a DEA agent, to help him. They set off across the desert and soon encounter betrayal, human trafficking, gun-running, and brutality in many other forms.
As I mentioned earlier, Stein is wonderful at incorporating supernatural elements into real life events. In HAUNTED, we see Anna encounter young girls who have been brutalized by members of a drug cartel. My heart wept at the fact that this kind of brutality really happens and that is why Jeanne Stein's writing is so effective. Stein can weave her words so well that you see the action as it occurs as well as feel the heartfelt emotion on the page. The Anna Strong character has grown stronger and more confident throughout the series and I'm glad to learn that her story is not over. I would suggest that you read the series in order, but if you pick up HAUNTED before the others, Stein does a good job of keeping the details simple. There is a ninth book in the Anna Strong Vampire series due out in 2013 and I highly recommend that you catch up on Anna's adventures!

SUMMARY
Anna Strong—kick-ass bounty hunter and vampire—has made some enemies in her time. But it's not just her old foes she should be worried about…
Anna's shape-shifting friend Culebra finally opens up to her about his life before he owned Beso de la Muerte, a bar catering to supernatural clientele. As if summoned by the conversation, Culebra's past stumbles into his bar in the form of an old buddy cashing in a favor.
Soon Anna, Culebra and her ex, DEA agent Max, find themselves deep in Mexico, dealing with drug cartel infighting, old vendettas and missing girls. Mexico just may prove to be Anna's best match yet…
From Fantasy/SciFi Mag Sept-Oct issue
Books to Look For – Charles De Lint
Crossroads, by Jeanne C. Stein,
Ace Books, 2012, $7.99.
Here's another series to which I'm a late arrival. Crossroads is the seventh outing for vampire PI Anna Strong but from the first pages I had no trouble getting into the swing
of the story.
There's a hierarchy of vampires in the world Jeanne C. Stein has created, and with the death of Anna's mentor she has to lie low for a while. But then an old flame who also happens to be an FBI agent comes to her with a report that bodies are showing up along the Mexican border, each of them drained of blood.
Anna feels she has no choice but to help out, only her involvement brings her into contact with an old enemy named Chael. Chael, however, has no intention of attacking her. Instead he offers her the knowledge that out in Navajo country is a shaman who can not only bring the dead back to life, he can also give the undead their mortality once more.
In the year since Anna has become a vampire her life has been turned upside down (chronicled in the first six volumes of the series no doubt) and there's nothing she'd like better than to have things return to how they once were. The trouble with that scenario is that without her vampire strength, humans won't have anyone to protect them from the monsters like Chael who are just waiting to change the status quo. But should she really have to put everything she cares about on the backburner?
All of which explains the book's title since once Anna goes in search of the shaman she knows she'll reach a crossroads and will have to make a decision that will affect the
rest of her existence.
Lots of contemporary urban fantasies have some version of a supernatural PI, but when the story takes Anna into Navajo country, Crossroads acquires a bit of Tony Hillerman flavor that adds to its freshness and certainly added to this reader's enjoyment of the book.
The prose has a nice cadence, the dialogue rings true, and the characters feel like people rather than constructs on paper. Some of the elements of the plot were expected but there were enough surprises that I was kept guessing about many of the various mysteries right up to the end. When I get a little time I'll definitely be looking into some of the earlier entries into this series.
Copyright 2005-2013 by Jeanne C Stein
Web site design and maintenance by Totally Wired Web Design